Kathy L. Hackett (1949-2019) most recently served as the Director of Choral Activities at Plano West Senior High School (TX) and the leader of the West Cluster Choral Feeder Program in which she oversaw seven schools. She had the joyous opportunity to teach in a variety of high schools including Liberty and Kingwood, Texas, Atlanta, Georgia, Kansas City, Missouri, and Plano, Texas. Kathy received her Bachelor of Music Education with a concentration in choral conducting from Southwest Texas State University where she was mentored by Ira Bowles and Ralph Harrel. Postgraduate hours in music were awarded from Pennsylvania State University and in education reform at The University of Kansas. Kathy considered Charles Nelson, Donald Neuen, and Kenneth Fulton to be her professional mentors.

Kathy spent 48 years in music education and 39 years as a teacher and choral director in Texas, Georgia, and Missouri. Kathy taught each child equally, regardless of ability or background. Early in her career, while teaching in Liberty, students nicknamed her "Momma" and continue to affectionately refer to her by that name today. First and foremost, Kathy was a teacher of teachers and considered her greatest professional accomplishment to be the countless students who have gone on to serve the music profession.

Of her numerous achievements and accolades, Kathy was especially honored to receive the "Excellence in Choral Music" award from the Texas Choral Directors Association for "her contribution to choral music in Texas, mentorship, and inspiration to colleagues and students, and continuing advocacy for future choral singing." Additionally, she was a Teacher of the Year and a PTA Lifetime Achievement award recipient.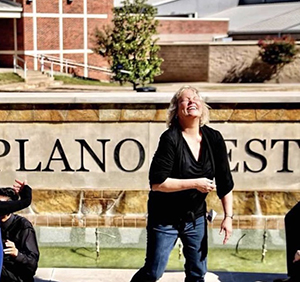 Choirs under her direction have received consistent Sweepstakes and first divisions at UIL. From 2001-2019, 132 students from Plano West Sr. HS were selected for a Texas All-State choir. Under her leadership, choirs were selected to perform before The Texas Music Educators Association in 2004 and 2019, and The Southwestern American Choral Directors Association in 2012. Kathy's choirs have performed by invitation at The United States Naval Academy, The West Point Military Academy, and The Basilica of the National Shrine of the Immaculate Conception, St. Patrick's Cathedral, St. Bartholomew's Episcopal Church, and The Ronald Reagan Presidential Library. Mrs. Hackett's choirs have performed with choirs from Baylor University, The University of North Texas, Sam Houston State University, Southern Methodist University, Texas Christian University, Louisiana State University, Millikin University, and Oklahoma State University. Hallmark performances included The Dallas Wind Symphony featuring composer and conductor Eric Whitacre, The Dallas Symphony Chorus featuring composer and conductor Jake Runestad, and multiple performances with the critically acclaimed Voces8.

Kathy developed and presented numerous workshops on various topics for TMEA, TCDA, GMEA, and ACDA. She was in demand as a guest conductor, clinician, and adjudicator throughout her career for hundreds of choirs nationwide. She served ACDA, TMEA and TCDA in varying capacities, including section leader for the ACDA National Mixed Choir, two-time section leader for the Texas All-State Mixed Choir, a multi-year organizer for the Texas All-State Mixed Choir, co-host for TMEA vocal division headliner Charlene
Archibeque, past chair for the TCDA Ways and Means Committee, and past Vocal Vice President for the Texas Music Adjudicator's
Association from 2012-2014.

Kathy thrived on her devotion to her children and the love she gave to her husband. As a mother she successfully balanced her professional and family demands. As for a wife, Paul could have asked for nothing more during their 51 years together and 47 years of marriage. She lived her life and built her career for students and peers on the foundation of committing herself to others and making the world a better place. Her legacy lives on through the thousands of lives she changed for the better, and the love and respect each of us shares with each other.

If you would like to make a contribution to ensure the creation and longevity of this fund, please click here to be directed to the pledge form.
---