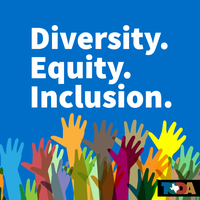 The TCDA Board of directors is taking action to increase diversity, equity, and inclusion throughout our organization. The Board will be holding an open forum for our members on Monday, August 3, 2020, from 6 pm to 7:30 pm to voice thoughts, concerns, and suggestions as we develop a long term plan for the organization. It is the intent of the board to listen and learn from this forum and then work to develop a concrete action plan to guide our organization.
We recognize the urgency of this action and we need your voice and partnership to guide our organization forward. We encourage all members to register and attend the event. If you would like to participate as a speaker in this forum there will be an opportunity in the registration form to sign up as a speaker for the event so that we can organize our time in such a way to give a voice to all who desire to participate in this way. Following the initial forum, the board of directors will devote meeting time to discuss the issues brought forth, identify action items, and begin to develop a plan for the future. This event is the first step in what we know will need to be an ongoing effort. All TCDA members are encouraged to attend. In the event you are unable to attend in person, we will record the event and make it available to our members.
Those wishing to speak should be prepared to submit the following information during registration.
What concern about diversity, equity, and inclusion would you like to address within TCDA?

What steps can we take, or what suggestions do you have for the board that would address your concern?
In an effort to hear from as many members as possible, each speaker will be given two minutes to speak.
You must be a TCDA member to attend this forum. Please visit the link below to register to attend and/or bring a concern/suggestion to the forum. To register to speak, registration must be completed no later than Saturday, August 1.
Click Here to Register to Attend and/or Speak During This Event.
---