TCDA is excited to open registration for the 65th Annual Conference in San Antonio, July 23-25, 2020. The board of directors continues to review feedback from our membership and is working to find financially sustainable ways to provide members as much content as possible. With this in mind, there will be a change to the way music packets are distributed this year.
Historically, the TCDA summer convention was designed as a "New Music Reading Clinic." Many remember the days of receiving packets of octavos as we entered each session and simply taking home our favorites. This process changed to reading packet books as publishers became less inclined to distribute octavos and searched for more cost-effective ways to promote their new music. New music packets were (and continue to be) funded by publishers marketing efforts to promote their new music. Responding to the needs of our membership, TCDA began "Tried and Proven" reading sessions for our divisions of older music recommended by our clinicians. As these types of reading sessions are not funded by the publishers the number of packets that could be offered each year was limited to one per division, every other year. The board regularly received feedback that these sessions were desired and valuable to our members and we have worked to address this by adding more to the convention while also maintaining our long history of providing a "new music reading clinic." With this in mind, the board has developed the following plan going forward.
New Music Reading Packets
As we piloted at the 2019 convention, new music will continue to be offered via the publishers. After experimenting with this last year and listening to the feedback we are working with the publishers to better market these sessions to the intended market/division, but keeping in mind that many publishers offer a broad spectrum of music suitable to varied divisions of our organization. Publishers will provide reading packets in their chosen form (books, octavos, or digitally) to those attending the session. TCDA will publish the titles and voicings of each of these sessions in advance (in guidebook) to help the membership determine which sessions best fit their needs during the convention. All new music reading packets are available to all members, first come, first serve at the doors of the reading session.
Tried and Proven Reading Packets
Each division of TCDA (College/Community, Church, Elementary, MS/JH, HS) will offer tried and proven reading packets catered to that division. With your early registration, you will receive the reading packets for your primary division. Realizing that a large portion of our membership works in multiple divisions, with your standard registration you will also have the option of selecting the reading packets of a secondary division included in your registration. For 2020 this means you will pre-select two of the divisions below and receive these packets at registration for the convention. If you desire all of the tried and proven packets offered at the convention you may choose the premium registration for a slightly higher fee.
These changes will allow TCDA to offer as much content as possible to the membership in a financially sustainable way. Please note that in order to guarantee that you receive the music packets that you desire, you must register by the early registration deadline. Onsite registration will include up to two division tried and proven reading packets as available.
We hope that these changes will meet the needs of our members. We will continue to monitor feedback and adjust this process as needed as we perfect this process.
2020 TCDA Tried and Proven Reading Sessions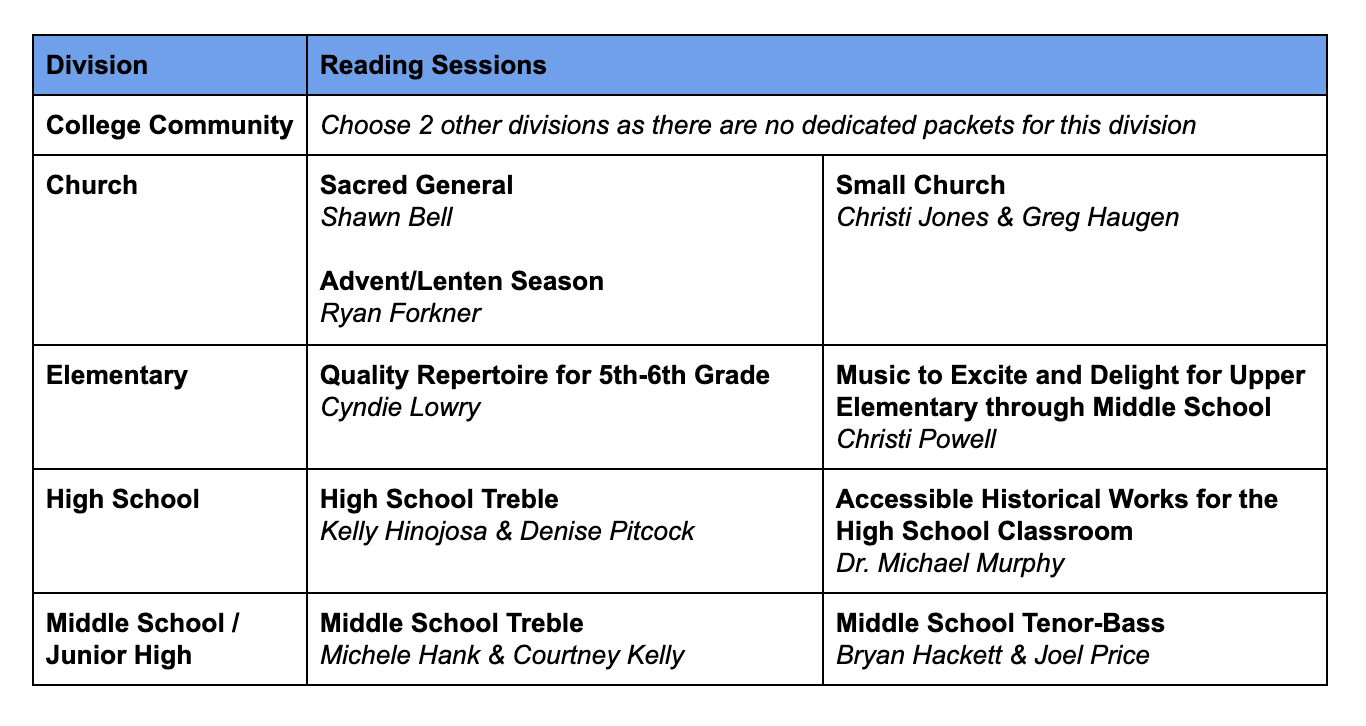 Other music packets available to all attendees at the door of the session:
My Story in Song - Elaine Hagenberg
Advanced MS / Developing HS Tried & Proven (curated by HS and MS Vice-Presidents) - College Student Conductors
14 (and still growing) Publisher presented New Music Reading Sessions
---